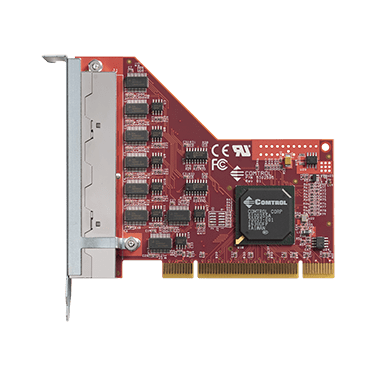 The RocketPort INFINITY 8J multiport serial card has RJ11 serial ports and is RS-232, RS-422, and RS-485 software-selectable.
The RocketPort INFINITY 8J serial port expansion card provides eight "native" serial ports utilizing a single PCIe card slot and is compatible with all PCI Infinity bus architectures. The RJ11 serial ports, mounted on the edge of the card, support software configurable RS-232/422/485 serial communications at speeds up to 921.6 Kbps. Product is fully compatible with systems that have 32 or 64 bit 3.3 or 5 volt PCI and PCI-X expansion slots. The INFINITY design utilizes the Unity ASIC technology that takes full advantage of the 66 MHz BUS speed available on PCI-X servers.
Every RocketPort serial card features the high-performance RocketPort processor chip, consisting of a dedicated 44 MHz core that minimizes host CPU utilization and optimizes data transmission via larger transmitand- receive buffers than those of 16550 UART chips, commonly used in standard PC serial ports and low-end serial cards.
RocketPort technology enables these cards to outperform other serial expansion cards by handling the transmission of large amounts of data more reliably and efficiently.
Certified Windows drivers, support for the most popular operating systems, and readily available U.S.-based support makes the RocketPort 8J the perfect solution for projects requiring PC-based serial communication.